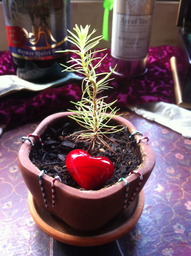 I wanted to share my Christmas tree with you all. It embodies for me the sweetness in the little things; the opportunity to 
"source joy in the simple". 
I am reminded this time of year that a genuine kind word or a moment of expressed gratitude is a 
huge
 gift. 
In my attempt to be of service and do good work in the world I can feel the need to "work hard" and complicate the flow with my effort. 
I invite you all to join me this winter-solstice holiday season to drop into the ease and simplicity; give yourself and your loved ones the gift of your presence, as opposed to a pile of presents.
It feels amazing….